I suppose one of the things that can't be planned on your wedding day is the weather and as one might imagine to most brides this is a real worry, even the time of the year gives no guarantee of that blue sky day.
I think it would be fair to say that most wedding photographers when they see a rainy start to a wedding day have a little concern, not that they won't get great pictures, just that it makes things a that little bit harder.
I am sure it has been said before, but just so we are clear rainy days and winter weddings are no place for amateurs no matter what camera they have.
Ok, some good news is that it rarely rains in the UK all day, my mum's old saying "if it starts before 7 it will be dry by 11" is surprisingly true.
Go With the Flow
So what should the bride do who wants to cover all the bases, well in many cases your professional seasoned photographer will have it covered, pardon the pun.
My first bit of advice is "to go with the flow" make the rain part of your day, your photographer will be geared up  with a couple of umbrellas and it is important to have bridesmaids and groomsmen on brolly duty.
 Love the Light
Great images come from great light and that cloudy sky can produce fabulous soft-box lighting so much better than harsh sunlight. If the sun is shining through the clouds this has great back-lighting possibilities with glistening trees and foliage.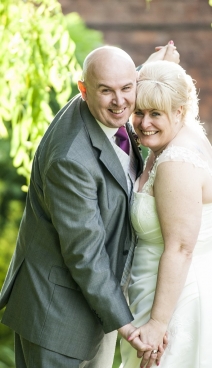 Now to the venue, some wedding venues and hotels  have designated covered areas or patios as a contingency for poor weather but many don't, the secret here is to be flexible and just watch for breaks in the rain they will come.
As for shooting pictures indoors, this has never been my preferred option but it can be really great at a country house location with its Chesterfields and open fires, but not so in the local modern hotel.
A bride recently said to me before booking "what contingency plans do you have for taking pictures if it rains on the day"  Well some I have mentioned earlier in this blog, but just for clarity.
Be Ready
I always have three white translucent umbrellas.
I survey the location before the wedding day to check for photo opportunities and inclement weather locations.
I bring along my studio flash strobes and large photo umbrellas just in case we need to do groups inside.
I ask the venue if a location is available for photographs if the weather is poor.
Towels for the kit, if it gets wet.
Some lens wipes in my pocket at the ready.
I have a rain coat, with lots of pockets.
I hope these few words offer some comfort, remember it's your day love it, enjoy it, let the rain be part of it!
Share it if you like it, if I can help bob along to the contact info below and drop me a note.